13 Times Mitt Romney Was Completely Classless To President Trump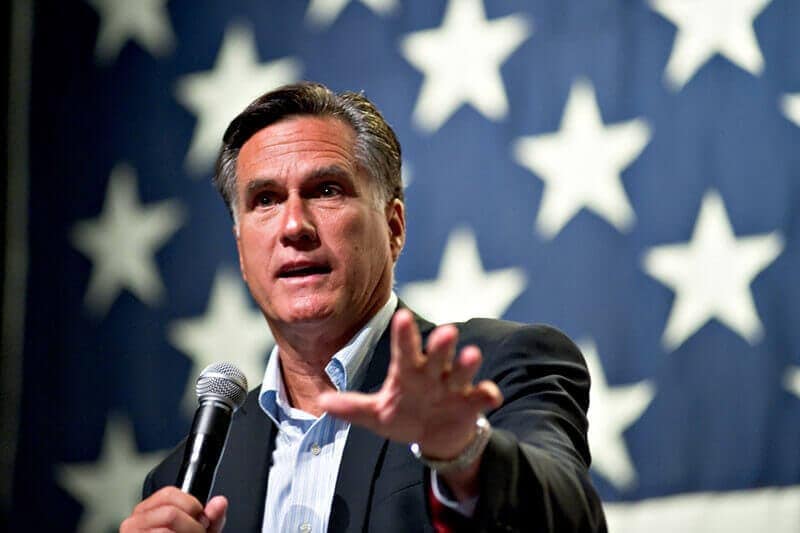 Failed 2012 Republican nominee Mitt Romney is lobbying to be picked as Donald Trump's Secretary of State, so perhaps Trump's team should review all of Romney's undiplomatic statements from 2015 and 2016 about the future Commander in Chief.
1. Romney indicated last June he would never serve in a Trump Administration, when talking to attendees at his "Experts and Enthusiasts Summit" or "E2" meeting in Utah. The meeting took place at the resort where Romney announced his 2012 campaign for the presidency, according to the Washington Post. "Had there been a President Bush or a President [Marco] Rubio or a President [Scott] Walker, I might've been happy to be a part of their administration," Romney told "hundreds of his donors and business partners," according to CNN.
2. Romney's infamous March 3 Trump-bashing speech at the University of Utah included a stream of vehement #NeverTrump commentary.
Let me put it plainly, if we Republicans choose Donald Trump as our nominee, the prospects for a safe and prosperous future are greatly diminished … He inherited his business, he didn't create it … A business genius he is not … What he said on "60 Minutes" about Syria and ISIS has to go down as the most ridiculous and dangerous idea of the campaign season: Let ISIS take out Assad, he said, and then we can pick up the remnants … I'm afraid that when it comes to foreign policy he is very, very not smart …

Dishonesty is Donald Trump's hallmark … His is not the temperament of a stable, thoughtful leader. His imagination must not be married to real power … Think of Donald Trump's personal qualities, the bullying, the greed, the showing off, the misogyny, the absurd third grade theatrics. We have long referred to him as "The Donald." He is the only person in America to whom we have added an article before his name. It wasn't because he had attributes we admired … a Trump nomination enables [Hillary Clinton's] victory …

I predict that there are more bombshells in his tax returns. I predict that he doesn't give much if anything to the disabled and to our veterans. I predict that he told the New York Times that his immigration talk is just that: talk…If I'm right, you will have all the proof you need to know that Donald Trump is a phony … Mr. Trump is directing our anger for less than noble purposes …

Here's what I know. Donald Trump is a phony, a fraud. His promises are as worthless as a degree from Trump University. He's playing the American public for suckers: He gets a free ride to the White House and all we get is a lousy hat. His domestic policies would lead to recession. His foreign policies would make America and the world less safe. He has neither the temperament nor the judgment to be president. And his personal qualities would mean that America would cease to be a shining city on a hill.
3. Romney and other NeverTrumpers attempted to recruit a third party challenger to Trump.
When asked at the American Friends of The Hebrew University awards ceremony on May 5 if he would run as an independent in the presidential race, according to the Washington Examiner, Romney replied: "No, I'm certainly going to be hoping that we find someone who I have my confidence in who becomes nominee. I don't intend on supporting either of the major-party candidates at this point."
4. CNN noted in June that Romney had not ruled out voting for Libertarian Party candidate Gary Johnson and that if Bill Weld had been at the top of the ticket, "…it would be very easy for me to vote for Bill Weld for president."
5. On location at Romney's "E2" summit in June, which hosted many NeverTrumpers, he gave an exclusive interview to CNN's Wolf Blitzer.
[Wolf Blitzer]: You don't believe he can change?

[Romney]: …I believe he can hide who he is, but I believe who he is has been revealed by his lifetime and by the words in the campaign that he has spoken to this point …

I don't think there's anything I'm looking for from Mr. Trump to give him my support. He's demonstrated who he is and I've decided that a person of that nature should not be the one who, um, if you will, becomes the example for coming generations or the example of America to the world … Look, I don't want to see trickle down racism. I don't want to see a President of the United States saying things which change the character of the generations of Americans that are following …

Trickle down racism, trickle down bigotry, trickle down misogyny, all these things are extraordinarily dangerous to the heart and character of America and and and so I'm not, I'm not looking for Mr. Trump to change a policy that more aligns with my own, this is not a matter of just policy, it's more a matter of character and integrity …  I think his comments time and again appeal to the racist tendency that exists in some people and I think that's very dangerous.
6. The Atlantic listed Romney as one of the remaining "nays" among the NeverTrump crowd as of Nov. 6, two days before Trump won his landslide victory. In June, Romney told Blitzer that he would write in the name or a Republican other than Trump in the general election and confirmed he would not vote for Clinton.
7. Romney explained his strong convictions against Trump, despite the chance that Hillary Clinton would be elected president, in a May interview with the Wall Street Journal.
I wanted my grandkids to see that I simply couldn't ignore what Mr. Trump was saying and doing, which revealed a character and temperament unfit for the leader of the free world … others, including myself, believe our first priority should be to stand by our principles and if those are in conflict with the nominee, the principles come first … When the grandkids ask "What did you do to stop Donald Trump?'" what are you going to say?
8. In a March 18 Facebook post, Romney wrote, "Trumpism has become associated with racism, misogyny, bigotry, xenophobia, vulgarity and, most recently, threats and violence. I am repulsed by each and every one of these."
9. Romney became the "de-facto leader of the movement to deprive Trump of the Republican nomination—branded online as #NeverTrump," following the March 18 Facebook post, according to the New Yorker.
10. Romney told Fox Business host Neil Cavuto following the March anti-Trump speech, "I'll either vote for a conservative who runs or I'll write in the name of a conservative… I cannot in good conscience vote for a person who has been as degrading, disruptive and unhinged as I've seen Donald Trump be."
11. Romney did not attend the July 2016 Republican National Convention in Cleveland, Ohio, where Trump officially became the Republican Party's nominee for President of the United States. Bob Dole was the only former Republican Party presidential nominee to attend the 2016 convention.
12. Rick Wilson, spokesman for independent presidential candidate Evan McMullin, told the Washington Examiner in October that the McMullin campaign used an email list purchased from Romney to fundraise for their candidate. McMullin pitched himself as a Trump alternative. The bottom of the fundraising email read, "Romney for President Inc." according to the Examiner. Former 2016 candidate Jeb Bush's superPAC Right to Rise had also previously purchased the list, but prior to the former Florida governor's 2016 bid for the Republican presidential nomination was announced. A former Romney spokesman is on record as saying the list is available for rent to anyone.
13. Romney wrote a litany of anti-Trump Twitter posts:
This tweet from Romney on March 8 links to a video that is now private:
Trump has the best words. Take it from him. @AmFutureFund https://t.co/SC86cTts6E

— Mitt Romney (@MittRomney) March 8, 2016
Romney tweeted on the day of his infamous anti-Trump speech in Utah where he called Trump a "phony" and "fraud" and called his promises "worthless" with a reference to Trump University. He called Trump supporters "suckers" and said Americans were giving him a "free ride to the White House."
Here's what I know. Donald Trump is a phony, a fraud. His promises are as worthless as a degree from Trump University. (1/2)

— Mitt Romney (@MittRomney) March 3, 2016
Here's what I know. Donald Trump is a phony, a fraud. His promises are as worthless as a degree from Trump University. (1/2)

— Mitt Romney (@MittRomney) March 3, 2016
The failed 2008 presidential candidate and 2012 Republican presidential nominee also falsely claimed on March 3 that Trump as the Republican nominee would "enable" Hillary Clinton's victory in the presidential race.
A person so untrustworthy and dishonest as Hillary Clinton must not become president. But a Trump nomination enables her victory.

— Mitt Romney (@MittRomney) March 3, 2016
Back in February, Romney accused Trump of "coddling … bigotry."
A disqualifying & disgusting response by @realDonaldTrump to the KKK. His coddling of repugnant bigotry is not in the character of America.

— Mitt Romney (@MittRomney) February 29, 2016
Romney retweeted a David Brooks post from March 18 which read, "No, Not Trump, Not Ever," with a link to Brooks' article for the New York Times.
No, Not Trump, Not Ever https://t.co/E76Or5VaLu

— David Brooks (@nytdavidbrooks) March 18, 2016
Romney repeatedly joined with calls from the mainstream media and Democrats for Trump to release his tax returns as Democrats did to Romney in 2012. "They were all over me for my taxes," said Romney according to Fox13 News Salt Lake City.
Mr. Trump, tear down that tax wall. https://t.co/pQUZAJuE0k

— Mitt Romney (@MittRomney) May 11, 2016
An October 26 tweet urged people to vote for down ticket races, but left out the office of President:
Be sure to head to the polls for GOP Senate, House and statehouses; they are essential to defend and advance constitutional conservatism.

— Mitt Romney (@MittRomney) October 26, 2016
Trump presidential campaign spokeswoman Kellyanne Conway wrote in a November 24 Twitter post, "Receiving deluge of social media & private comms re: Romney Some Trump loyalists warn against Romney as sec of state."
Follow Michelle Moons on Twitter @MichelleDiana
What Do You Think? Let Us Know Below.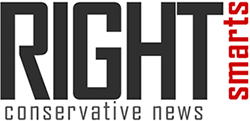 Donald Trump's 117 Most Unforgettable Quotes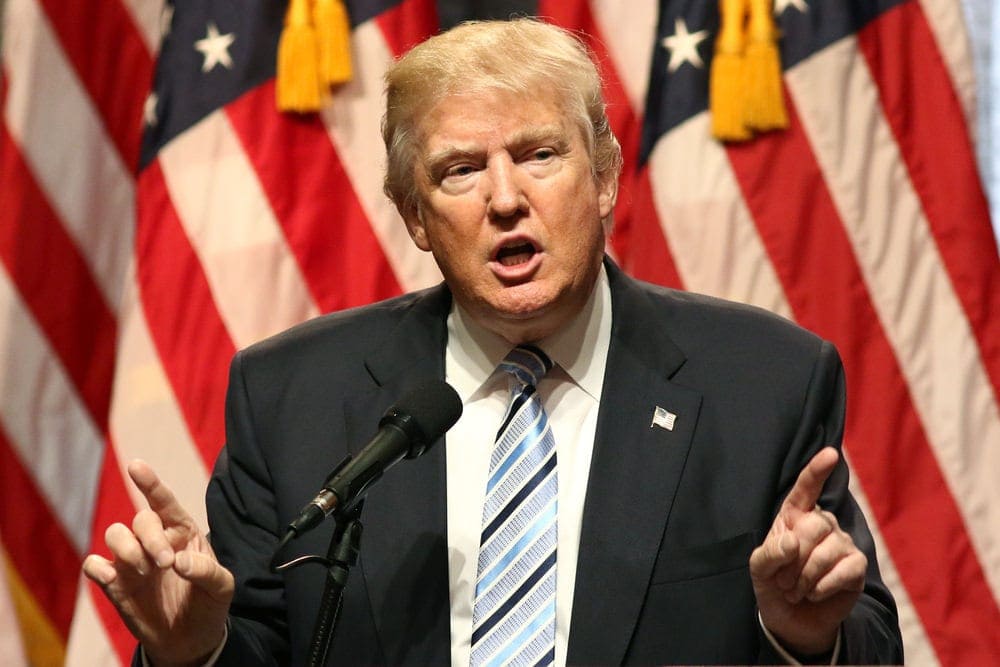 [dropcap]D[/dropcap]onald Trump is crazy.
We might disagree on what type of crazy — crazy like a fox, or crazy like a Charles Manson — but Trump's craziness is the one thing both the left and the right can agree on.
Along with crazy comes a lot of great quotes. We've found 117 of Trump's craziest quotes, good and bad. We've even added our own commentary for your amusement.
1. "I will be the greatest jobs president God ever created."
It's one heck of of a bold claim, but early indications are Trump might just live up to it. Job creation is way up, and unemployment is way, way down. Even Trump-loathing CNN can't hide the beautiful news.
2. "Such a nasty woman."
Trump haters tried to turn this into a sexist statement. Apparently, insulting anyeone who happens to be a female is now sexist. Yeah, I don't think.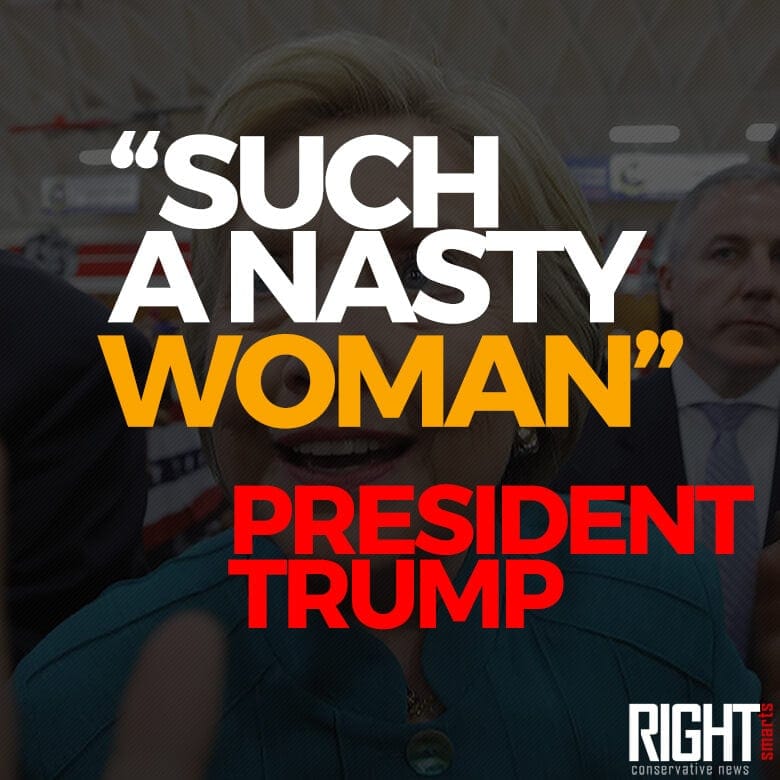 3. "When you open your heart to patriotism, there is no room for prejudice. The Bible tells us, 'How good and pleasant it is when God's people live together in unity.'"
Is Trump a true Christian, or was he pandering for votes? Good question. I don't know. What do you think?
4. "I have a Bible near my bed."
Hmm . . .
5. "Meryl Streep, one of the most over-rated actresses in Hollywood, doesn't know me but attacked last night at the Golden Globes. She is a Hillary flunky who lost big. For the 100th time, I never mocked a disabled reporter (would never do that) but simply showed him 'groveling' when he totally changed a 16 year old story that he had written in order to make me look bad. Just more very dishonest media!"
Streep's outrage seems to be dependent on what side of the political spectrum you're on. While she attacks Trump for crass-but-innocent locker room talk, she's heaped praise on convicted sex offender Roman Polanski, and is known to be a close friend of Harvey Weinstein. Any guesses what their political affiliation is?
6. "My use of social media is not presidential – it's MODERN DAY PRESIDENTIAL. Make America Great Again!"
By skipping the left wing media and using Twitter as his platform, Trump has changed the game for Republican presidents. Who needs to go through the media, when you can speak directly to the American people in 280 characters or less?
7. "I believe the media likes making me out to be something more sinister than I really am."
Has anyone ever been the focus of so much negativity from the media? I can't think of anyone.
7. "Arianna Huffington is unattractive, both inside and out. I fully understand why her former husband left her for a man – he made a good decision."
Ouch. For what it's worth, I happen to think Ms. Huffington is a very attractive woman.
8. "If I were running The View, I'd fire Rosie O'Donnell. I mean, I'd look at her right in that fat, ugly face of hers, I'd say, 'Rosie, you're fired.'"
Trump must have been pleased when things ended very badly for Rosie on The View.
9. "Seth Meyers is highly overrated as a comedian."
Would anyone disagree with this? Maybe Seth Meyers' mom? Maybe.
10. "Watched protests yesterday but was under the impression that we just had an election! Why didn't these people vote? Celebs hurt cause badly."
It seems more and more people are waking up, and no longer being told what to think by Hollywood. Given how immoral they've proven to be, this is a very good thing.
11. "Fake news is at an all time high. Where is their apology to me for all of the incorrect stories???"
Apologies require humility, Mr. Trump. Good luck finding that from the MSM.
12. "I will build a great wall – and nobody builds walls better than me, believe me – and I'll build them very inexpensively. I will build a great, great wall on our southern border, and I will make Mexico pay for that wall. Mark my words."
Would Mexico pay for it? They would if we gave them no other choice.
13. "When Mexico sends its people, they're not sending the best. They're not sending you, they're sending people that have lots of problems and they're bringing those problems with us. They're bringing drugs. They're bringing crime. Their rapists. And some, I assume, are good people."
One of Trump's most controversial quotes. Some call it racist. I don't think it is. Clearly, he's not calling all illegal Mexican immigrants rapists, but highlighting the fact that there are bad dudes thrown in the mix, like the man who shot and killed Katie Steinle.
14. "I've been treated very unfairly by this judge. Now, this judge is of Mexican heritage. I'm building a wall, okay? I'm building a wall."
Could a judge of Mexican heritage fairly rule over Donald Trump, given his (negatively-interpreted) statements on Mexico? The Donald didn't seem to think so.
15. "The only card Hillary has is the woman's card. She's got nothing else to offer and frankly, if Hillary Clinton were a man, I don't think she'd get 5 percent of the vote. The only thing she's got going is the woman's card, and the beautiful thing is, women don't like her."
Trump exaggerates how disliked Hillary is with women, but the female voter split was much closer than many predicted: 54% for Hillary, and 42% for Donald. Trump's success with women voters was one of the catalysts behind his incredible Election Day victory.
16. "Russia, if you're listening, I hope you're able to find the 30,000 [Hillary Clinton] emails that are missing. I think you will probably be rewarded mightily by our press."
Do I sense a little sarcasm from our president? I think I do.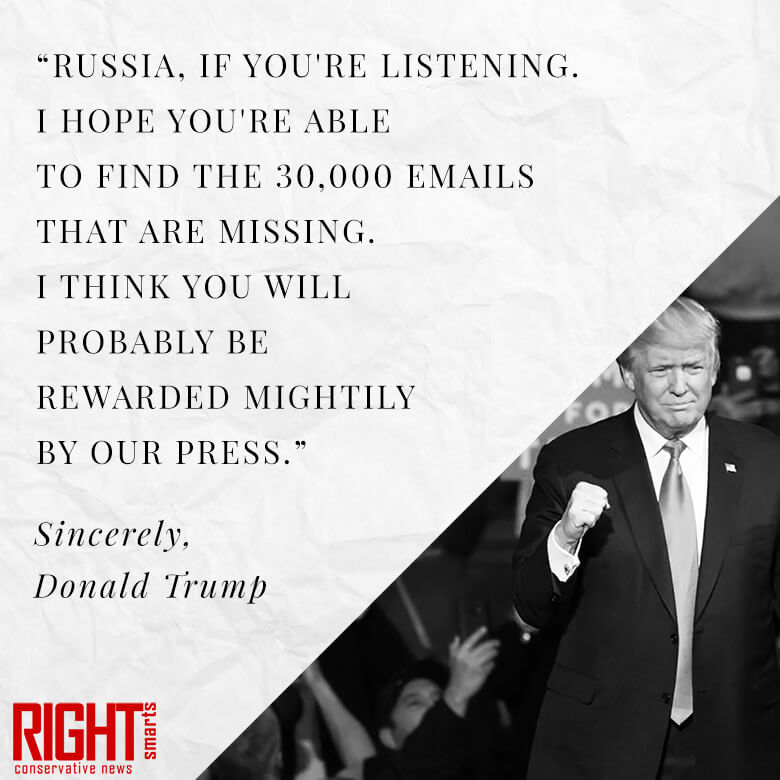 17. "Hillary Clinton . . . started the birther controversy. I finished it."
While Hillary Clinton isn't the originator of the claim that Obama was born outside of the U.S., it was during her campaign in 2008 that the so-called birther movement was born. Trump is correct, and Snopes and the mainstream media who say otherwise are wrong.
18. "If Hillary Clinton can't satisfy her husband what makes her think she can satisfy America."
Ouch. A low blow for sure, but admit it, you chuckled.
19. "Hillary Clinton was the worst Secretary of State in the history of the country. The world came apart under her reign as Secretary of State."
It does seem worldwide chaos is up over the past decade, but how much of that is Hillary's fault?
20. "Hillary Clinton may be the most corrupt person ever to seek the presidency."
I tend to agree, at least in modern times. Can anyone think of a more corrupt presidential candidate in the last, say, century?
21. "That makes me smart."
Note to those people saying Trump is stupid: You don't become one of the most successful human beings in the history of the universe without being one smart man.
22. "The other candidates — they went in, they didn't know the air conditioning didn't work. They sweated like dogs . . . How are they gonna beat ISIS? I don't think it's gonna happen."
Maybe a bit of a non sequitur here, Mr. President. Still, it was funny.
23. "I heard poorly rated @Morning_Joe speaks badly of me (don't watch anymore). Then how come low I.Q. Crazy Mika, along with Psycho Joe, came to Mar-a-Lago 3 nights in a row around New Year's Eve, and insisted on joining me. She was bleeding badly from a face-lift. I said no!"
The mainstream media really clutched this pears with this tweet. Trump had completely crossed the line, and deserved to be impeached for it. Impeached for a tweet . . . imagine that? Heh.
24. "I know more about ISIS than the generals do. Believe me."
Umm . . .
25. "Our military has to be strengthened. Our vets have to be taken care of. We have to end Obamacare, and we have to make our country great again, and I will do that."
Ahh . . . now this is more like it, Donald. Veterans have earned the right to be priorities. On that, all good people agree.
26. "I love Oprah. Oprah would always be my first choice."
This quote's from 1999, and he means for vice president (his running mate). It's an interesting quote for a variety of reasons. Donald has always made it clear he leans right, whereas, Oprah's firmly on the left. And now, with rumors heating up Oprah may run in 2020, this takes on a whole new importance. Couldn't you just see Oprah's campaign team using this quote to prop her up?
27. "Rosie O'Donnell's disgusting both inside and out. You take a look at her, she's a slob. She talks like a truck driver, she doesn't have her facts, she'll say anything that comes to her mind."
Does anyone like Rosie? I think even her co-hosts on The View couldn't stand her.
28. "They're remaking 'Indiana Jones' without Harrison Ford, you can't do that. And now They're making 'Ghostbusters' with only women. What's going on?"
Marvin Gaye couldn't have said it any better. On a side note, the all-female Ghostbusters remake was a box office flop.
29. "Katy, what the hell were you thinking when you married loser Russell Brand. There is a guy who has got nothing going, a waste!"
He really is one of the stupidest, silliest celebrities going today.
30. "Do you mind if I sit back a little? Because your (CNN host Larry King) breath is very bad — it really is."
To be fair, Larry King does look like his breath would stink (along with the rest of him).
31. "Yes, Arnold Schwarzenegger did a really bad job as Governor of California and even worse on the Apprentice . . . but at least he tried hard!"
An 'A' for effort for Mr. Schwarzenegger.
32. "I think Eminem is fantastic, and most people think I wouldn't like Eminem. And did you know my name is in more black songs than any other name in hip-hop? Black entertainers love Donald Trump. Russell Simmons told me that."
I'm guessing he's changed his opinion on Eminem after his latest pathetically-desperate attempt at relevancy. Trump is a long-beloved figure in the world of rap  hip hop, however, and continues to have a strong supporter in Kanye West.
33. "Lyin' Ted Cruz just used a picture of Melania from a shoot in his ad. Be careful, Lyin' Ted, or I will spill the beans on your wife!"
Whoa . . . things are getting personal now.
34. "I don't change diapers. It's not my thing. You know what, I'm a good father but that's not my thing and Melania's going to be a great mother. To a large extent It's up to the women. There are a lot of women out there who, you know, demand the husband act like the wife and there are a lot of husbands who listen to that."
I've always hated changing diapers, too, so I empathize with Donald here.
35. "She does have a very nice figure. I've said that if Ivanka weren't my daughter, perhaps I'd be dating her."
One of Trump's more notable quotes. Sickos have turned this into something incestuous, but it's clearly nothing more than a shrewd businessman giving his daughter, who was working as a model at the time, career-boosting praise.
36. "You know who's one of the great beauties of the world, according to everybody? And I helped create her. Ivanka. My daughter, Ivanka. She's 6 feet tall, she's got the best body."
See above.
37. "Most politicians would have gone to a meeting like the one Don, Jr. attended in order to get info on an opponent. That's politics!"
He's right, you know. The world of politics is as dirty and grimy as it gets. To pretend meeting with someone to land some potentially devastating news is beyond the pale. These people dug through hundreds of hours of Access Hollywood tape for a little bit of anti-Trump dirt, for Christ's sake!
38. "You know, wealthy people don't like me."
But we like you, Donald. 🙂
39. "Speeches are much easier if you read them. I just find when I do that, it's harder to fire up the crowd."
If this were Facebook, Barack Obama would be clicking the Like button right about now.
40. "There has always been a display of wealth and always will be, until the depression comes, which it always does. And let me tell you, a display is a good thing. It shows people that you can be successful. It can show you a way of life. Dynasty did it on TV. It's very important that people aspire to be successful. The only way you can do it is if you look at somebody who is."
Better to be inspired by the hardworking wealthy, like President Trump, than sleazy Hollywood celebrities.
41. "40 Wall Street actually was the second-tallest building in downtown Manhattan . . . and now It's the tallest."
This statement was made during an interview with New York's WWOR on 9/11. It's been used as an example of Trump's selfishness and insensitivity, but when it's viewed in full context, that's not the case. It was a throwaway comment during an interview in which Trump was deeply concerned, and quite frankly p****ed off, over what had happened. Don't take my word on it; listen for yourself:
And here's a bonus interview from September 13th:
42. "All of the women on 'The Apprentice' flirted with me — consciously or unconsciously. That's to be expected."
Does anyone doubt the truthfulness of this claim?
43. "Something beautiful is going to come out of that mixer. People are going to be very, very happy. They're going to get tremendous, tremendous tax cuts and tax relief and that's what this country needs."

Getting to keep more of the money you earn . . . what  a novel concept, huh?
44. "An 'extremely credible source' has called my office and told me that Barack Obama's birth certificate is a fraud"
I wonder if it was the same source who told Hillary Clinton first?
45. "As everybody knows, but the haters & losers refuse to acknowledge, I do not wear a wig. My hair may not be perfect, but it's mine."
I would hope a billionaire could afford a better wig than that.
46. "Eventually, we're going to get something done and it's going to be really, really good."
This is one of Donald's most often quote mined comment. Trump detractors like to take it out of content, and pretend like he's talking about his administration. What he's actually referring to is Congress.
47. "Happy Cinco de Mayo! The best taco bowls are made in Trump Tower Grill. I love Hispanics!"
And Hispanics love Trump. Election results prove it.
48. "Happy New Year to all, including to my many enemies and those who have fought me and lost so badly they just don't know what to do. Love!"
It takes a strong man to love even his enemies.
49. "He's not a war hero. He's a war hero because he was captured. I like people that weren't captured."
Vicious. Probably below the belt.
50. "His father was with Lee Harvey Oswald prior to Oswald's being — you know, shot. I mean, the whole thing is ridiculous. What is this, right prior to his being shot, and nobody even brings it up. They don't even talk about that. That was reported, and nobody talks about it."
Everyone knows Ted Cruz was the Zodiac Killer, so is it really that big of a stretch to think his father may have been involved in JFK's assassination? Killing must run in the family. (this is sarcasm, by the way)
51. "I could be happy living in a studio apartment."
He's a humble man, our Donald Trump.
52. "I could stand in the middle of Fifth Avenue and shoot somebody, and I wouldn't lose any voters, okay? It's, like, incredible."
Oh, boy. This quote got the press all in a hissy fit. He was emboldening violence, they said. Meanwhile, Hillary and Bernie supporters were causing riots with not so much as a single peep of criticism from the media.
53. "I don't even consider myself ambitious."
More humbleness from our leader.
54. "I don't like losers."
I don't like Hillary, either, Mr. President.
55. "I don't think I'm going to lose, but if I do, I don't think you're ever going to see me again, folks. I think I'll go to Turnberry and play golf or something."
You're were so, so close to getting rid of him for good, democrats. So close.
56. "I don't think I've made mistakes. Every time somebody said I made a mistake, they do the polls and my numbers go up, so I guess I haven't made any mistakes."
In the end, he was proved right. So many times the media optimistically told us Trump had reached his end. Yet, here we are. Go figure.
57. "I don't want the Presidency. I'm going to help a lot of people with my foundation–and for me, the grass isn't always greener."
Things got so bleak after eight years of Obama, that Trump had a change of heart. He could be spending his final years relaxing, enjoying his wealth, and his beautiful family. Instead, he's fighting for America, in the face of unprecedented negativity. What a man!
58. "I don't wear a 'rug'—It's mine. And I promise not to talk about your massive plastic surgeries that didn't work."
This comment was to Cher, who had attacked Trump without provocation. Once again, the media tried to spin it as a sexist attack by the president, ignoring the fact that Cher had instigated things with a personal attack.
59. "I enjoy it, I enjoy the system. I doubt I'll ever be involved with politics beyond what I do right now, but I do enjoy the system. I find it, a really, really beautiful thing to watch."
Thank God he changed his mind.
60. "I get called all these horrible names by Lindsey Graham, who I don't even know."
Nobody knows who Lindsey Graham is. I'm sure she's a lovely woman, though.
61. "I have never seen a thin person drinking Diet Coke."
Do they not drink Diet Coke because they're fat, or are they fat because they don't drink Diet Coke?
62. "I have so many fabulous friends who happen to be gay, but I am a traditionalist."
Trump's always been friendly towards the LGBTQ community, even when his rival, Hillary, was not.
63. "I have tremendous respect for the Japanese people, I mean, you can respect somebody that's beating the hell out of you."
Someone should remind democrats of this fact.
64. "Toyota & Mazda to build a new $1.6B plant here in the U.S.A. and create 4K new American jobs. A great investment in American manufacturing!"
The greatest jobs-creating president God's ever created, ladies and gentlemen.
65. "I know where she went — It's disgusting, I don't want to talk about it. No, It's too disgusting. Don't say it, It's disgusting."
Who says you can't engage in bathroom humor over the age of 70?
66. "I love the old days, you know? You know what I hate? There's a guy totally disruptive, throwing punches, we're not allowed punch back anymore . . . I'd like to punch him in the face, I'll tell ya."
Maybe it's true. Maybe sometimes violence is the answer.
67. "I made a lot of money and I made it too easily, to the point of boredom."
When you're so good you grow bored of making money.
68. "I put my name on buildings because it sells better. I don't do it because, gee, I need that."
Absolutely. Anyone who understands marketing understands the power of branding. It's not an egotistical move, it's just smart business.
69. "I think I've made a lot of sacrifices. I work very, very hard. I've created thousands and thousands of jobs, tens of thousands of jobs, built great structures. I've had tremendous success. I think I've done a lot."
To give up a life of extreme luxury and relaxation anytime he wants it, to a life of stress and dealing with a press who thrive off of attacking him . . . that's a huge sacrifice.
70. "I think if this country gets any kinder or gentler, It's literally going to cease to exist."
Tough love is the only way forward.
71. "I think Viagra is wonderful if you need it, if you have medical issues, if you've had surgery. I've just never needed it. Frankly, I wouldn't mind if there were an anti-Viagra, something with the opposite effect. I'm not bragging. I'm just lucky. I don't need it. I've always said, 'If you need Viagra, You're probably with the wrong girl."
Alpha male 101, ladies and gents.
72. "I think you'd have riots. I think you'd have riots. I'm representing many, many millions of people. In many cases first-time voters. If you disenfranchise those people, and you say, 'well, I'm sorry, you're 100 votes short,' even though the next one is 500 votes short? I think you'd have problems like you've never seen before. I wouldn't lead it, but I think bad things will happen."
Kind of like what we've seen from democrats since November 2016.
73. "I will tell you at the time. I'll keep you in suspense, okay?"
This was Trump's response to the question of whether or not he'd accept the election results if he lost. It led to the media climbing their soap boxes and chastising his "attack on democracy." How freakin' ironic, huh? Here we are, more than a year later, and democrats have yet to accept Hillary's fair loss. We've been bombarded with nothing but conspiracy theories about Russia, all in an attempt at undermining Trump's victory.
74. "For a religious leader to question a person's faith is disgraceful. I am proud to be a Christian. If and when the Vatican is attacked by ISIS, which as everyone knows is ISIS' ultimate trophy, I can promise you that the Pope would have only wished and prayed that Donald Trump would have been President because this would not have happened."
Yikes! I think I'll leave this quote alone . . .
75. "I've had a beautiful, I've had a flawless campaign. You'll be writing books about this campaign."
They already are, and will continue to do so for decades to come, if not centuries. This was, bar none, the most eventful presidential campaign of modern times. What a fun ride it was.
76. "I've seen numbers of 24% — I actually saw a number of 42% unemployment. Forty-two percent. 5.3% unemployment — that is the biggest joke there is in this country. The unemployment rate is probably 20%, but I will tell you, you have some great economists that will tell you it's at 30, 32. And the highest I've heard so far is 42%."
The media calls this a fib, but honest economists agree with it. Remember: unemployment is a measurement of the percentage of people looking for jobs who don't currently have one. It doesn't take into account those millions of people who have become demoralized and given up. This makes a big difference.
77. "If I ever ran for office, I'd do better as a Democrat than as a Republican–and that's not because I'd be more liberal, because I'm conservative. But the working guy would elect me. He likes me. When I walk down the street, those cabbies start yelling out their windows."
He's right about the working man loving him, and fortunately for everyone, those men are mostly on the right. This quote was originally from 1990. A lot things have changed in the past almost 30 years.
78. "If I were Tom Brady, I'd sue the hell out of the NFL for defamation. $250 million dollars for defamation. Sue 'em Tom. They'll settle so fast your head'll spin."
Hey! Trump's NFL beef goes back even further than Kneelgate. Who knew? It's good know Brady returned the good will by being a Trump supporter.
79. "If people can just pour into the country illegally, you don't have a country."
He's right, of course. Imagine if your home was open for people to come and go as they please, and take what they want along the way. It would cease being your home at some point, right? The same principle applies here. Nations are defined by their boundaries, without which they cease to be.
80. "If you're interested in 'balancing' work and pleasure, stop trying to balance them. Instead make your work more pleasurable."
How right you are, Mr. President.. If you're going to spend 40+ hours a week doing something, you'd better make it as enjoyable as possible.
81. "In the second grade I actually gave a teacher a black eye — I punched my music teacher because I didn't think he knew anything about music and I almost got expelled."
What a rebel!
82. "It's freezing and snowing in New York — we need global warming!"
Growing up in the freezing upper Midwest, I've often thought the same thing. Imagine spending Christmas morning, relaxing on the beaches of Lake Michigan? A man can dream . . .
83. "It's my opinion that to a large extent, Mike Tyson was railroaded in this case."
This is an opinion shared by a lot of people. Would Trump defend Tyson is he (Trump) were a racist? I highly doubt it.
84. "I'm just thinking to myself right now, we should just cancel the election and just give it to Trump, right?"
Well, it would've saved Hillary and her fundraisers a hell of a lot of money. Like, oh . . . $1,400,000,000.00.
85. "Kim Jong Un is 27 years old. His father dies, took over a regime. So say what you want but that is not easy, especially at that age."
He may be willing to blow Rocket Man off the face of the Earth, but that doesn't mean Trump can't empathize with him.
86. "Listen, you mother****ers, we're going to tax you 25%!"
The above is Trump's admittedly-undiplomatic response to China.
87. "Look at that face! Would anyone vote for that? Can you imagine that, the face of our next president I mean, she's a woman, and I'm not supposed to ​say bad things, but really, folks, come on. Are we serious?"
Okay, this was just a dickish thing to say. There's no defending him here.
88. "Look at those hands, are they small hands? And [Marco Rubio] referred to my hands. 'If They're small, something else must be small.' I guarantee you there's no problem. I guarantee."
I believe the phrase TMI — too much information — was made just for situations like this.
89. "One of they key problems today is that politics is such a disgrace. Good people don't go into government."
Liberals have used this quote against Trump, as if it proves he's a bad person by his own standards. They're wrong. Trump never says good people can't go into politics, only that they weren't at the time. That changed the moment he announced his candidacy.
90. "Perhaps I shouldn't campaign at all, I'll just, you know, I'll ride it right into the White House."
You could have saved us all a lot of time and effort, and liberals a lot of tears, if you did.
91. "Perhaps she made the story up. I think that's what happened."
Then-Breitbart reporter Michelle Fields accused then-Trump campaign manager Corey Lewandowski of grabbing her and pulling her down (presumably to the ground) after a March 2016 press conference in Florida.  To back up her claims, Fields posted images of a her severely-bruised wrist on Twitter. Naturally, the anti-Trump media ate it up. Today, nearly two years later, the validity of the attack remains in question. Video footage does appear to show Lewandowski grabbing Fields, however, it appears to be minor. Here's the video. Make up your own mind.
The incident ultimately led to Fields' voluntary resignation from Breitbart (along with Ben Shapiro). After a brief stint writing for the Huffington Post, she's seemingly faded into obscurity.
92. "Robert Pattinson should not take back Kristen Stewart. She cheated on him like a dog & will do it again – just watch. He can do much better!"
As the saying goes: once a cheater, always a cheater. Forgive, but never forget. The best revenge? Living well. Okay, that's probably enough cliches for now.
93. "That was so great. Who was the person who did that? Put up your hand, put up your hand. Bring that person up here. I love that."
This was Trump's response to two of his supporters removing a protester — possibly a DNC plant paid to incite violence — from one of his rallies. Good deeds deserve good rewards, right?
94. "The point is, you can never be too greedy."
Trump channeling his inner Gordon Gecko. Of course, Trump has always used his wealth accumulation, his "greed," to do good in the world, which is how it should be.
95. "There are people — I categorize them as life's losers — who get their sense of accomplishment and achievement from trying to stop others. As far as I'm concerned, if they had any real ability, they wouldn't be fighting me, they'd be doing something constructive themselves."
He nailed it here. People who dwell in negativity, and in other people's lives, tend to be the most obnoxious people, and the biggest losers on the planet.
96. "There are two publics as far as I'm concerned. The real public and then there's the New York society horseshit. The real public has always liked Donald Trump."
Trump once again sticking up for the so-called "little guy" in the face of elitist snobbery. Is it any wonder blue collar, working class states like Michigan and Wisconsin went Trump on Election Night?
97. "There has to be some form of punishment"
This quote was Trump's response to what would happen to women if abortions were made illegal, yet they were caught getting one. It caused an uproar. Apparently, doing illegal things, even hypothetical illegal things, shouldn't be punished???
98. "There have been many bad things said about me over the years, and in some cases they've been true. It doesn't bother me. If I have a fault and somebody exposes that fault or talks about that fault, you won't hear me complain."
Acknowledging your flaws, learning from them, and using them to grow as a person, as one of the most brave and stunning things a person can do.
99. "There's nothing I love more than women, but They're really a lot different than portrayed. They are far worse than men, far more aggressive, and boy, can they be smart. Let's give credit where credit is due, and let's salute women for their tremendous power, which most men are afraid to admit they have."
What a sexist pig! (note: that's sarcasm, in case you couldn't tell)
100. "Usually if I fire somebody who's bad, I'll tell them how great they are. Because I don't want to hurt people's feelings."
Trump showing off his kind, gentle side. Aren't you touched?
101. "We do, if It's illegals, in other words, if It's everybody, but people that are legally living here, I'm doing very well. In other words, people that are here, like Hispanics that are in the country, I'm doing very well. People that vote. Like people leaving voting booths and all, I'm doing very well with them."
Trump did very well with Hispanic voters, proving just how inaccurate pre-election polls can be. Especially when they involve oversampling . . .
102. "We have some bad hombres here, and we're going to get them out."
103. "We literally have never had an argument; forget about the word 'fight.' We never even had an argument."
This is Trump commenting on his marital bliss with Melania. Both of his ex-wives, Ivanka and Marla Maples, seem to get along with Donald, and are complimentary of him. How often does that happen? It seems to speak to Trump's quality as a man, doesn't it?
104. "We must speak our minds openly, debate our disagreements honestly, but always pursue solidarity."
Civilized discourse sounds good in theory. Then you put it to the test . . .
105. "We won with poorly educated. I love the poorly educated."
This is a beautiful quote from the President, which the snobbish media tried to belittle him over. The so-called "poorly educated" are damn fine people, and they deserve a president who will fight for their wants and needs, no matter how unimportant the coastal elites may think they are. Guess what? They've got one.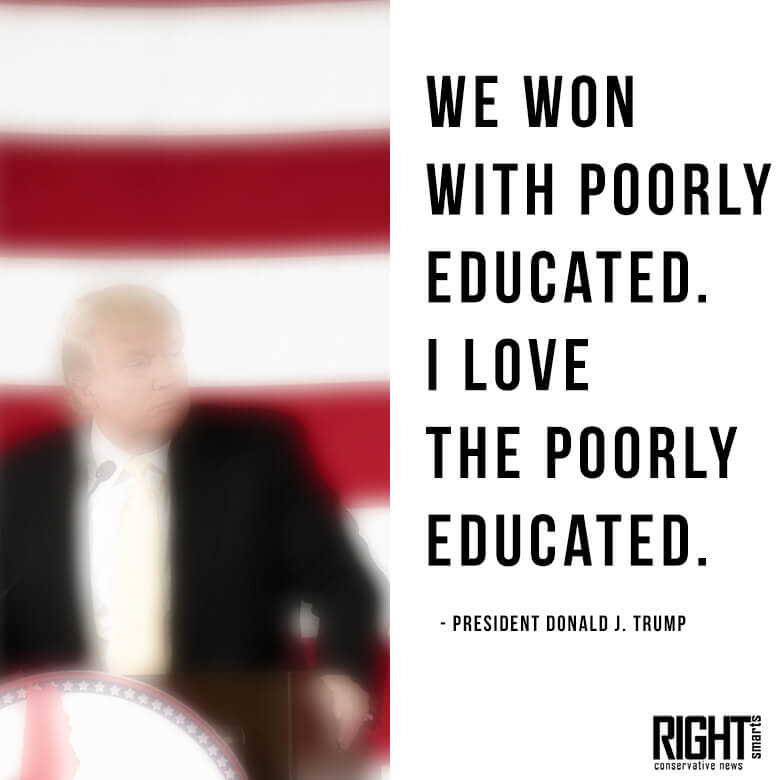 106. "We're totally predictable. And predictable is bad. Sitting at a meeting like this and explaining my views and if I do become president, I have these views that are down for the other side to look at, you know. I hate being so open."
Strategic unpredictability: Keep the enemy on their toes, and catch them off guard, when they're least-prepared to mount a successful defense. Trump is crazy like a fox.
107. "Money is a little bit of a scorecard, but I don't do it for the money. I do it because I really enjoy it. I love the creative process."
I've heard many rich and successful people say this. They view earning money as if it's a video game. They're constantly looking to set a new high score.
108. "My fingers are long and beautiful, as, it has been well documented, are various other parts of my body."
*Laughing out loud*
109. "My life has been about winning. My life has not been about losing."
Looking over his list of accomplishments, it's impossible to refute this boastful claim. Love him or hate him, the man has conquered the game of life.
110. "My Twitter has become so powerful that I can actually make my enemies tell the truth."
4D chess grandmaster.
111. "No dream is too big. No challenge is too great. Nothing we want for our future is beyond our reach."
You've gotta love that positivity. Dream big. Achieve big.
112. "Nobody cares about the talent in beauty pageants. There's only one talent you care about, and that's the look talent. You don't give a shit if a girl can play a violin like the greatest violinist in the world. You want to know what does she look like."
Is this a sexist comment? Maybe, maybe not. Is this a truthful comment? Almost certainly, yes.
113. "Now, the poor guy — you've got to see this guy, 'Ah, I don't know what I said! I don't remember!'"
This is the infamous quote where the media claims Trump was mocking a reporter's disability due to his (Trump's) hand motions. There's just one problem: it's fake news. Catholics 4 Trump blew the lid on this myth shortly after it started. In short: Trump has a history of using the same mocking hand gesture dating back years. It's his go-to mockery pose, as silly as it may be, and had absolutely nothing to do with the reporter's disability. Did any of this stop the mainstream media from repeating the myth, ad nauseam? Do you even need to ask?
114. "When America is united, America is totally unstoppable."
True story. Unfortunately, it doesn't look like we're going to be united again anytime soon.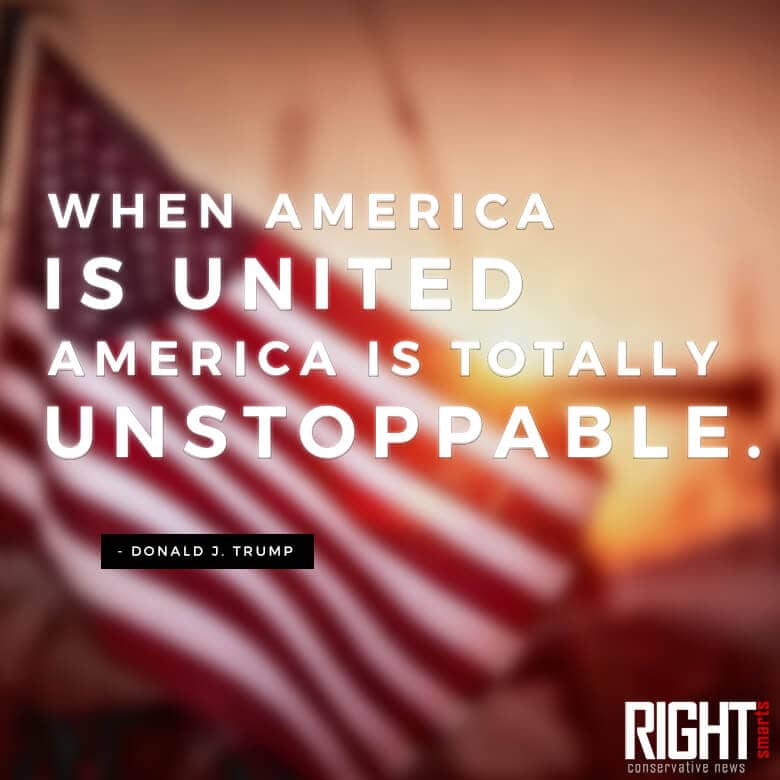 115. "When I think I'm right, nothing bothers me."
Confidence is a beautiful thing, isn't it? Being so confident in your position that no one and nothing can faze you. What an alpha male.
116. "You could see there was blood coming out of her eyes, blood coming out of her wherever."
I wonder what he means?
117. "You know, I'm automatically attracted to beautiful women. I just start kissing them. It's like a magnet. Just kiss. I don't even wait. And when you're a star, they let you do it. You can do anything . . . grab 'em by the pussy. You can do anything."
Ruh-roh . . . this quote is from the infamous Access Hollywood secret bus recording. Detractors claim it proves Trump is a sex offender, whereas, supporters point out he uses the word "let," signifying consent. Who's right? Who knows. Either way, voters didn't find it damning enough to not elect him president, and Hollywood has proven their outrage was — wait for it — all an act.
There you have it.
What Do You Think? Let Us Know Below.
LIVE STREAM of President Trump's State of the Union Address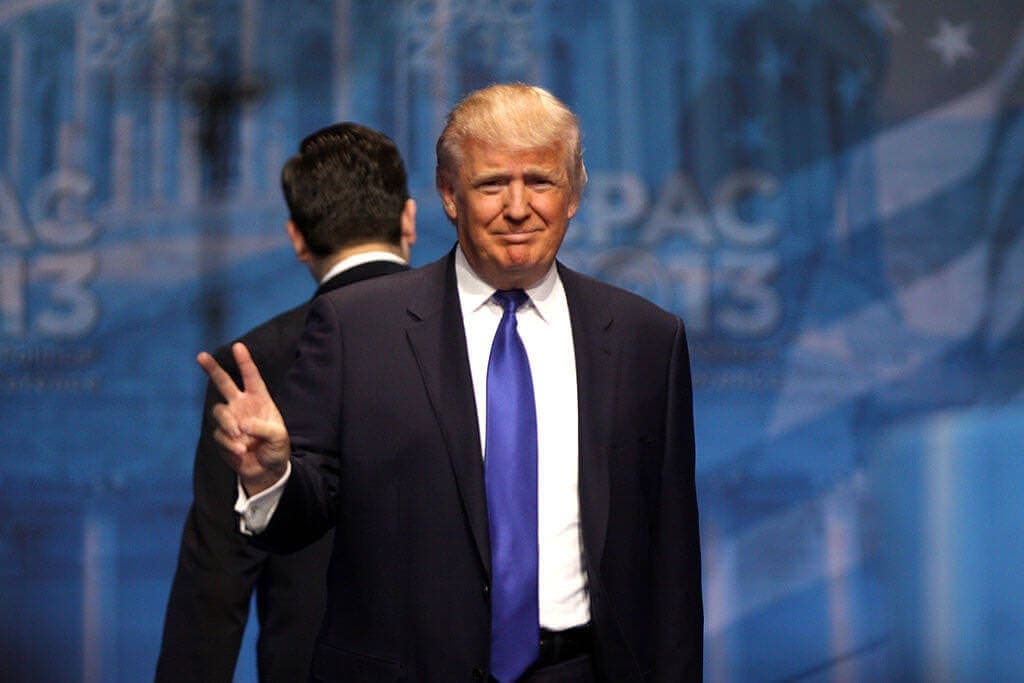 Tonight, Tuesday, February 28, 2017, President Donald Trump will be making a speech to congress and the American people. The speech is expected to be a combination of traditional State of the Union addresses, along with a look at president Trump's plan for making America great again.
The speech is scheduled to begin at 9:10pm, EST. We'll have the LIVE STREAM here at Right Smarts.
Photo Credit: ShutterStock
What Do You Think? Let Us Know Below.
It Happened Again: Trump Supporters Attacked While Boycotting the Oscars in Los Angeles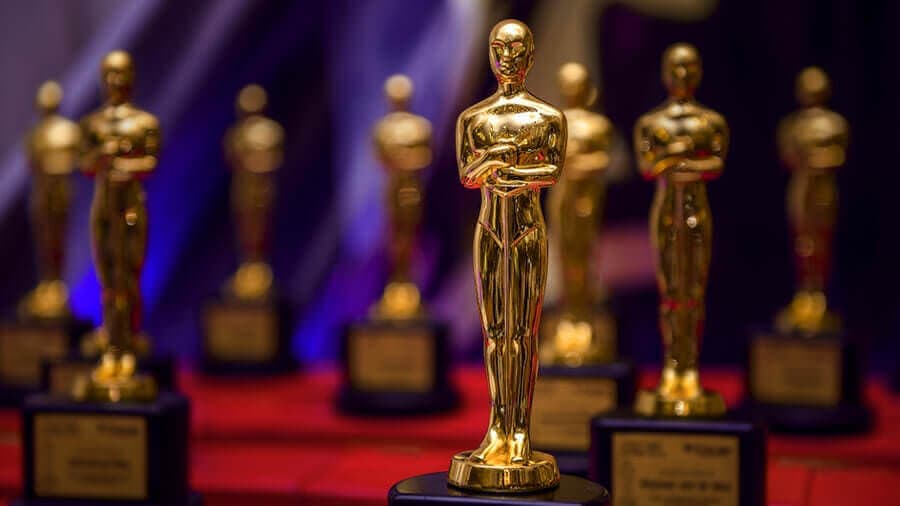 In news that's sure to shock everyone, anti-Trumpers have unprovokedly attacked Trump supporters.
This most recent assault (well, as of this writing; there've probably been more by the time you read it) happened in the peaceful, tolerant city of Los Angeles, California.
Pro-Trump supporters, tired of the divisive, poisonous politics of Hollywood elites, decided to express their Second Amendment rights and protest the Oscars.
Get this: They actually had the audacity to wear pro-Trump clothing while they did it.
This was, of course, too much for tolerant liberals to handle. Their rebuttal? To physically and verbally attack the pro-Trump protesters.
I am told it was a very peaceful and loving beating. You don't have to take my word for it, though; someone managed to video a part of the attack and put it on YouTube:
By repeatedly dehumanizing Trump and his supporters, while stoking irrational fear, liberals have normalized this sort of behavior. Attacking people who support Trump not only isn't viewed as a negative, it's viewed as a positive.
The icing on the cake is that, after encouraging this sort of violence, liberals then pretend to have taken the high road. They're not only intolerant and violent, they're also dishonest and delusional.
And that, my friends, is why Trump won.
When will the left step up and disavow this violent behavior? Or do they agree with it?
Things that make you go "hmm" . . .
Photo Credit: ShutterStock
What Do You Think? Let Us Know Below.